library contents | ECG axis | ECG history | ECGs by Example
'ECGs by Example' notes on the book
This is the official webpage for acknowledgements and superfluous trivia associated with our ECG book.
---
ECGs by Example. Jenkins + Gerred
3rd Edition Published 2011, Elsevier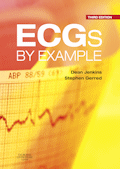 (ISBN 978-0-7020-4228-7).

        Authors: Dean Jenkins and Stephen Gerred

---
Section 1 - supraventricular rhythms
normal sinus rhythm is Dean Jenkins
sinus arrhythmia is Gowan Creamer then a House Surgeon at Waikato
AVRT antidromic was supplied by Michael Belz
SVT with aberrancy was supplied by David Nicholls now a medical registrar in Wellington
Section 2 - Ventricular rhythms
polymorphic VT was supplied by the CCU at Royal Gwent Hospital, Newport, Wales
Ventricular flutter was the most difficult recording to scan, clean and reproduce and took Stephen Gerred several weeks to finish.
Ventricular fibrillation - the story is true!
Section 3 - Bundle Branch Block
incomplete RBBB is Stephen Gerred
Section 6 - Ischaemic Heart Disease
Acute anteroseptal MI - This recording has been borrowed by the University of Wales College of Medicine for their 1st Clinical Year Medical Block Assessment
Acute Inferior MI was the first recording to be scanned and reprinted by us. We made it difficult to see that the process would work. It was photocopied crumpled into a ball, flattened and photocopied again before scanning.
Very early acute inferior MI was supplied by David Nicholls
Acute right ventricular MI - OK the box showing V4R was added so it was a little cheat.
Section 7 - Hypertrophy Patterns
Section 8 - Systemic disorders and drug effects
Hyperkalaemia subtle changes - with thanks to Dr Carl Horsley.
Section 9 - Technical issues
Electrical and muscular interference recordings were supplied by Mrs Carol Rough, ECG Technician, Waikato Hospital, Hamilton, NZ.
'Technical' Dextrocardia was taken from Walter Flapper who was a Kiwi Medical student visiting the Royal Gwent Hospital, Newport, Wales.
Section 10 - Miscellaneous
Arrhythmogenic right ventricular dyslplasia - thanks to Dr Tim Sutton
Pericarditis was supplied by Dr Peter Williams, Rheumatologist, Royal Gwent Hospital, Newport, Wales.
Pericardial effusion with electrical alternans - thanks to Dr Mick Bialas
---
[ECG library Contents] [About the library and its librarians] [History of ECGs]
[FAQ]
---
This page was last updated on 18th June 2014. Dean Jenkins.